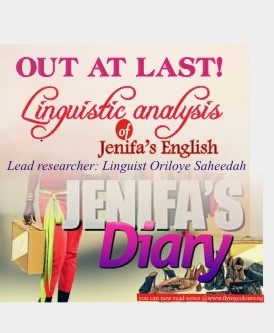 OUT AT LAST: LINGUISTICS ANALYSIS OF JENIFA'S ENGLISH
by Oriloye Saheedah
My project work as an undergraduate was the linguistic analysis of Jenifa's English in Funke Akindele's Jenifa's Diary which is a long running TV episode series that has come to stay in Nollywood having won numerous awards including the big AMVCA (Africa Magic Viewers' Choice Awards) two consecutive times. It is probably the last in the trilogy for Funke Akindele, the executive producer, had earlier produced Jenifa and Return of Jenifa under the auspices of her then marketer and executive producer, Olasco Films Production. Far from being stale as expected by many, Jenifa's Diary is attracting greater attention, most probably because the characters therein spoke English language as opposed to the former two which were Yoruba movies with restricted audience in a multicultural nation that houses several ethnic groups speaking different languages with English as her official language. Apart from this, Jenifa's Diary is a long running continual series with several new characters and diverse stories as opposed to the past productions which were almost solely based on the major character- Sùlìá ke̩n, Ayétòrò ke̩n!
In Jenifa's Diary, the story revolves around the same humorous and eponymous character, Sulia turned Jenifa, a village school drop-out, who is obsessed with living the campus life and becoming a big girl in the city. She deployed crooked means in the bid to leave Ayétòrò, her village, for the city and Toyosi, an undergraduate she had once helped had to put up with her. Suliat expresses her comic character by her loose attitude, hasty comments, spirit of adventure and most especially, poor English expressions and Yorùbá dialect. Funny enough, the least one would have expected from such a character is a diary where she records her day-to-day experiences and thoughts in soliloquies!
Right here, I'll be leading the research on Jenifa's spoken and written English in Jenifa's Diary which will be analyzed and reviewed from the linguistics perspective. Analysis of her English shall be made on some levels of linguistics (phonology, morphology, semantics, syntax, error and contrastive analysis etc), and adequate responses shall be given to linguistically intuitive questions on the possibility of such a spoken English; the probable factors that resulted in the English, and how such a widely acclaimed movie series can influence the language situation of the viewers- positively or otherwise. Since it'll be in an "everyone can get along" language, such analyses make us more informed about the language we speak and help us to see how scientifically and wonderfully structured languages are.
For the sake of ease, I and fellow linguists will take you through the daily linguistic analysis, by picking a sub-level of Linguistics and show how Jenifa displayed it in her English. Dear ladies and gentlemon, iz goin to be bubble here, see ya, catch ya, lera, iz jus begin!